Rev. 6 noviembre 2006
Astrophel and Stella (Astrofel y Stella, 1591)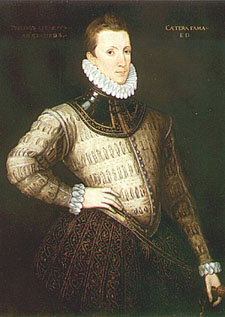 [1] Loving in truth, and fain in verse my love to show,
That she, dear she, might take some pleasure of my pain,
Pleasure might cause her read, reading might make her know,
Knowledge might pity win, and pity grace obtain,
I sought fit words to paint the blackest face of woe:
Studying inventions fine, her wits to entertain,
Oft turning others' leaves, to see if thence would flow
Some fresh and fruitful showers upon my sunburned brain.
But words came halting forth, wanting Invention's stay;
Invention, Nature's child, fled stepdame Study's blows;
And others' feet still seemed but strangers in my way.
Thus, great with child to speak, and helpless in my throes,
   Biting my truant pen, beating myself for spite:
   'Fool,' said my Muse to me, 'Look in thy heart, and write!'
Amando en verdad y dispuesto en verso mi amor a mostrar, para que ella, querida, pudiera sentir algún placer de mi dolor, el placer pudiera moverla a leer, leer pudiera hacerla saber, el saber pudiera ganar compasión, y la compasión gracia obtener, busqué palabras adecuadas con que pintar el rostro más negro de la aflicción: estudiando invenciones finas, los sentidos para entretenerle, a menudo pasando hojas de otros, por ver si de ahí fluían frescos y fructíferos aguaceros sobre mi cerebro quemado por el sol. Pero las palabras llegaban vacilantes, al faltarles el apoyo de Invención; Invención, hija de Natura, huía de los golpes de Estudio, su madrastra; y los pies de otros no parecían sino extraños en el camino. Así, preñado para hablar, y desvalido en mis dolores de parto, mordiendo la perezosa pluma, golpeándome para mortificarme: «Tonto —me dijo la Musa—, mírate en el corazón, y escribe».
[2] Not at the first sight, nor with a dribbed shot,
Love gave the wound which, while I breathe, will bleed,
But known worth did in mine of time proceed,
Till, by degrees, it had full conquest got.
I saw, and liked; I liked, but lovèd not;
I loved, but straight did not what Love decreed:
At length to Love's decrees I, forced, agreed,
Yet with repining at so partial lot.
Now even that footstep of lost liberty
Is gone, and now, like slave-born Muscovite,
I call it praise to suffer tyranny;
And now employ the remnant of my wit
   To make myself believe that all is well,
   While, with a feeling skill, I paint my hell.
No al primer vistazo, ni con un disparo al azar, Amor me dio la herida que, mientras respire, sangrará, sino la valía conocida en la mina del tiempo procedió, hasta que, por grados, había alcanzado conquista completa. Vi, y me gustó; me gustó, pero no amé; amé, pero en seguida no hice lo que decretó Amor: al final los decretos de Amor, forzado, acepté, aunque protestando por un juicio tan parcial. Ahora incluso esa huella de libertad perdida ha desaparecido, y ahora, como un moscovita esclavo de nacimiento, considero halago sufrir tiranía; y ahora empleo el resto de mi ingenio para hacerme creer que todo está bien, mientras, con habilidad sentida, pinto mi infierno.
[15] You that do search for every purling spring
Which from the ribs of old Parnassus flows,
And every flower, not sweet perhaps, which grows
Near thereabouts, into your poesy wring;
You that do dictionary's method bring
Into your rhymes, running in rattling rows;
You that poor Petrarch's long deceasèd woes
With newborn sighs and denizened wit do sing:
You take wrong ways; those far-fet helps be such
As do bewray a want of inward touch,
And sure at length stolen goods do come to light;
But if, both for your love and skill, your name
   You seek to nurse at fullest breasts of Fame,
   Stella behold, and then begin to indite.
Vosotros que buscáis cada fuente murmurante que de las costillas del viejo Parnaso fluye, y cada flor, acaso no dulce, que crece por allí cerca en vuestra poesía retorcéis; vosotros que el método del diccionario traéis a vuestras rimas, corriendo en vibrantes hileras; vosotros que las aflicciones del pobre Petrarca hace mucho fallecidas con recién nacidos suspiros y nacionalizado ingenio cantáis: tomáis caminos erróneos; esas ayudas lejanas son tales que delatan falta de tacto interior, y seguro que a la larga los bienes robados salen a la luz; pero si, tanto por amor como por habilidad, vuestro nombre buscáis nutrir en los colmadísimos pechos de la Fama, contemplad a Stella, y luego empezad a describirla.
[26] Though dusty wits dare scorn astrology,
And fools can think those lamps of purest light
—Whose numbers, ways, greatness, eternity,
Promising wonders, wonder do invite—
To have for no cause birthright in the sky
But for to spangle the black weeds of night;
Or for some brawl which in that chamber high
They should still dance to please a gazer's sight.
For me, I do Nature unidle know,
And know great causes great effects procure;
And know those bodies high reign on the low.
And if these rules did fail, proof makes me sure,
   Who oft forejudge my after-following race
   By only those two stars in Stella's face.
Aunque los ingenios polvorientos osen desdeñar la astrología, y los tontos puedan creer que esas lámparas de luz purísima —cuyos números, caminos, grandeza, eternidad, maravillas prometedoras, a maravillarse invitan— tengan derecho a nacer en el cielo sin otra causa que adornar con lentejuelas las negras prendas de la noche; o por algún corro que en esa elevada cámara hubieran de seguir bailando para complacer la mirada del observador. Pues yo, sé que Natura no es ociosa, y sé que grandes causas grandes efectos traen, y sé que esos cuerpos altos rigen sobre los bajos. Y si estas reglas fallaran, una prueba me da certeza, que a menudo juzgo mi estirpe venidera solo por esas dos estrellas en el rostro de Stella.