Rev. 3 noviembre 2006
Amoretti (Amorcillos)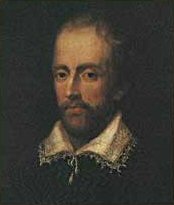 [1] Happy ye leaves when as those lilly hands,
   which hold my life in their dead doing might,
   shall handle you and hold in loves soft bands,
   lyke captives trembling at the victors sight.
And happy lines, on which with starry light,
   those lamping eyes will deigne sometimes to look
   and reade the sorrowes of my dying spright,
   written with teares in harts close bleeding book.
And happy rymes bath'd in the sacred brooke,
   of Helicon whence she derivèd is,
   when ye behold that Angels blessèd looke,
   my soules long lackèd foode, my heavens blis.
Leaves, lines, and rymes, seeke her to please alone,
   whom if ye please, I care for other none.
Dichosas vosotras hojas cuando esas manos de lirio que me sostienen la vida en su poder letal os manejen y os sujeten en los suaves lazos del amor, como cautivos temblorosos a la vista del vencedor. Y dichosos versos, sobre los que con luz estrellada esos ojos luminosos se dignarán a veces a mirar y leer las penas de mi moribundo espíritu, escritas con lágrimas en el sangrante libro secreto del corazón. Y dichosas rimas bañadas en el arroyo sagrado de Helicón, de donde ella procede, cuando contempléis la bendita mirada de ese ángel, alimento que le ha hecho falta mucho tiempo a mi alma, mi gozo celestial. Hojas, versos y rimas, buscad complacerla a ella sola, que si la complacéis, no me importa nadie más.
[15] Ye tradefull Merchants, that with weary toyle,
   do seeke most pretious things to make your gain;
   and both the Indias of their treasures spoile,
   what needeth you to seeke so farre in vaine?
For loe my love doth in her selfe containe
   all this worlds riches that may farre be found,
   if Saphyres, loe her eies be Saphyres plaine,
   if Rubies, loe hir lips be Rubies sound:
If Pearles, hir teeth be pearles both pure and round;
   if Yvorie, her forhead yvory weene;
   if Gold, her locks are finest gold on ground;
   if silver, her faire hands are silver sheene.
But that which fairest is, but few behold,
   her mind adornd with vertues manifold.
Industriosos mercaderes que con penoso esfuerzo buscáis las cosas más preciosas para obtener ganancia, y ambas Indias de sus tesoros despojáis, ¿qué precisáis buscar tan lejos en vano? Pues fijaos, mi amor en sí contiene todas las riquezas de este mundo que pueden lejos hallarse: si zafiros, fijaos que sus ojos son zafiros claros; si rubíes, fijaos que sus labios son rubíes perfectos; si perlas, sus dientes son perlas puras y redondas; si marfil, su frente hermoso marfil; si oro, sus rizos son el oro más fino de la tierra; si plata, sus lindas manos son lustre plateado. Pero lo que más hermoso es, y pocos observan, su alma adornada con virtudes muchas.
[16] One day as I unwarily did gaze
   on those fayre eyes my loves immortall light:
   the whiles my stonisht hart stood in amaze,
   through sweet illusion of her lookes delight.
I mote perceive how in her glauncing sight,
   legions of loves with little wings did fly:
   darting their deadly arrowes fyry bright,
   at every rash beholder passing by.
One of those archers closely I did spy,
   ayming his arrow at my very hart:
   when suddenly with twincle of her eye,
   the Damzell broke his misintended dart.
Had she not so doon, sure I had bene slayne,
   yet as it was, I hardly scap't with paine.
Un día al mirar incautamente esos hermosos ojos, luz inmortal de mi amor, un rato mi aturdido corazón se quedó asombrado por la dulce ilusión del deleite de su mirada. Pude percibir cómo en su mirada oblicua legiones de amores con alitas volaban, lanzando su mortales flechas con fulgor de fuego a todo arriesgado observador que pasaba. A uno de esos arqueros secretamente espié, apuntando la flecha a mi propio corazón, cuando de pronto al parpadear, la damisela le rompió el malintencionado dardo. Si no lo hubiera hecho, seguro que me habría matado, pero, tal como fue, apenas escapé con dolor.
[64] Comming to kisse her lyps, (such grace I found)
   me seemd I smelt a gardin of sweet flowres:
   that dainty odours from them threw around
   for damzels fit to decke their lovers bowres.
Her lips did smell lyke unto Gillyflowers,
   her ruddy cheekes lyke unto Roses red:
   her snowy browes lyke budded Bellamoures,
   her lovely eyes lyke Pincks but newly spred.
Her goodly bosome lyke a Strawberry bed,
   her neck lyke to a bounch of Cullambynes:
   her brest lyke lillyes, ere theyr leaves be shed,
   her nipples lyke yong blossomd jessemynes.
Such fragrant flowres doe give most odorous smell,
   but her sweet odour did them all excell.
Llegando a besarle los labios (tal gracia hallé), me pareció oler un jardín de dulces flores que delicados olores emanaban apropiadas para que las damiselas adornasen las enramadas de sus amantes. Los labios le olían como a alhelíes, las encendidas mejillas como a rosas rojas, las níveas cejas como belamores en capullo, los preciosos ojos como claveles pero recién abiertos. Su hermoso seno como a un lecho de fresas, el cuello como a un ramo de aguileñas, el pecho como a lirios antes de que se les caigan las hojas, los pezones como jóvenes jazmines floridos. Tales flores fragantes dan el efluvio más oloroso, pero el dulce olor de ella a todas superaba.
[75] One day I wrote her name upon the strand,
   but came the waves and washèd it away:
   agayne I wrote it with a second hand,
   but came the tyde, and made my paynes his pray.
Vayne man, sayd she, that doest in vaine assay,
   a mortall thing so to immortalize,
   for I my selve shall lyke to this decay,
   and eek my name bee wypèd out lykewize.
Not so, (quod I) let baser things devize
   to dy in dust, but you shall live by fame:
   my verse your vertues rare shall eternize,
   and in the hevens wryte your glorious name.
Where whenas death shall all the world subdew,
   our love shall live, and later life renew.
Un día escribí su nombre sobre la playa, pero llegaron las olas y lo borraron; de nuevo lo escribí con una segunda mano, pero llegó la marea e hizo de mis penas su presa. Hombre vano, dijo ella, que en vano intentas algo mortal así inmortalizar, pues yo misma como esto decaeré y también mi nombre se borrará de igual modo. No, dije yo, que cosas más viles piensen en morir en el polvo, pero tú vivirás por la fama: mi verso tus virtudes raras eternizará, y en los cielos escribirá tu glorioso nombre. Donde, mientras la muerte todo el mundo someterá, nuestro amor vivirá y después la vida renovará.
Véase un comentario de este poema.