LITERATURA INGLESA
Henry Howard, conde de Surrey (1517-1547)
Rev. 3 noviembre 2006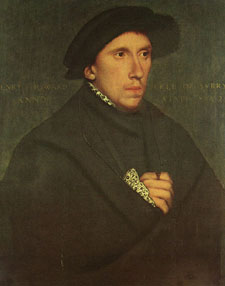 Love that doth reign and live within my thought
Love, that doth reign and live within my thought,
And built his seat within my captive breast,
Clad in the arms wherein with me he fought,
Oft in my face he doth his banner rest.
But she that taught me love and suffer pain,
My doubtful hope and eke my hot desire
With shamefast look to shadow and refrain,
Her smiling grace converteth straight to ire.
And coward Love, then, to the heart apace
Taketh his flight, where he doth lurk and plain,
His purpose lost, and dare not show his face.
For my lord's guilt thus faultless bide I pain,
   Yet from my lord shall not my foot remove:
   Sweet is the death that taketh end by love.
Amor que reina y vive en mi pensamiento, y construyó su sede dentro de mi pecho cautivo, ataviado con las armas con las que conmigo luchó, a menudo en mi rostro su enseña coloca. Pero la que me enseñó a amar y a sufrir pena, mi dudosa esperanza y también mi ardiente deseo con modesta mirada para ensombrecer y refrenar, su sonriente gracia convierte en seguida en ira. Y el cobarde Amor, entonces, al corazón de prisa huye, donde se esconde y se queja, perdido su propósito, y no osa mostrar el rostro. Por culpa de mi señor así inocente sufro yo pena, pero de mi señor no se separará mi pie: dulce es la muerte que termina por amor.
Soneto original de Petrarca (Canzoniere, 140):
   Amor che nel penser mio vive e regna
e 'l suo seggio maggior nel mio tène,
talor armato ne la fronte vène,
ivi si loca, et ivi pon sua insegna.
   Quella ch'amare e sofferir ne 'nsegna
e vòl che 'l gran desio, l'accesa spene,
ragion, vergogna e reverenza affrene,
di nostro ardir fra sé stessa si sdegna.
   Onde Amor paventoso fugge al core,
lasciando ogni sua impresa, e piange, e trema;
ivi s'asconde, e non appar più fòre.
   Che poss'io far, temendo il mio signore,
se non star seco in fin a l'ora estrema?
ché bel fin fa chi ben amando more.