Rev. 6 noviembre 2006
Sonetos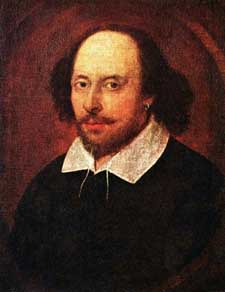 18 20 29 53 55 73 97 106 116 130 138
[18] Shall I compare thee to a summer's day?
Thou art more lovely and more temperate:
Rough winds do shake the darling buds of May,
And summer's lease hath all too short a date:
Sometime too hot the eye of heaven shines,
And often is his gold complexion dimmed,
And every fair from fair sometime declines,
By chance or nature's changing course untrimmed;
But thy eternal summer shall not fade
Nor lose possession of that fair thou owest,
Nor shall Death brag thou wander'st in his shade,
When in eternal lines to time thou growest:
   So long as men can breathe or eyes can see,
   So long lives this, and this gives life to thee.
¿He de compararte a un día de verano? Tú eres más hermoso y más templado: tempestuosos vientos sacuden los queridos capullos de mayo, y los pastos del verano tienen demasiado corta vida. En ocasiones demasiado caliente el ojo del cielo brilla, y a menudo está su complexión de oro oscurecida, y toda belleza desde la belleza a veces declina, por el azar o el curso cambiante de Natura, estropeada; pero tu eterno verano no se marchitará ni perderá posesión de esa belleza que tienes, ni alardeará Muerte de que andas a su sombra, cuando en eternas líneas para siempre lozanees: mientras los hombres respiren o los ojos vean, mientras, vive esto, y esto te da vida a ti.
[20] A woman's face with nature's own hand painted
Hast thou, the master-mistress of my passion;
A woman's gentle heart, but not acquainted
With shifting change as is false women's fashion;
An eye more bright than theirs, less false in rolling,
Gilding the object whereupon it gazeth;
A man in hue all hues in his controlling,
Which steals men's eyes and women's souls amazeth:
And for a woman wert thou first created,—
Till nature as she wrought thee fell a-doting,
And by addition me of thee defeated,
By adding one thing to my purpose nothing.
   But since she pricked thee out for women's pleasure,
   Mine be thy love and thy love's use their treasure.
Rostro de mujer por la propia mano de Natura pintado tienes tú, señor señora de mi pasión; corazón gentil de mujer, pero no habituado al astuto cambio como es usanza de las falsas mujeres; ojo más brillante que el de ellas, menos falso al girar, dorando el objeto que mira; hombre en aspecto todos los aspectos al dominar, que le roba los ojos a los hombres y a las mujeres las almas desconcierta: y es que para mujer fuiste primero creado, hasta que Natura, mientras te hacía, se enamoró, y por adición de ti me privó, al añadir algo para mi propósito nada. Pero puesto que te apuntó para placer de las mujeres, mío sea tu amor y el uso de tu amor su tesoro.
[29] When, in disgrace with Fortune and men's eyes,
I all alone beweep my outcast state,
And trouble deaf heaven with my bootless cries,
And look upon myself and curse my fate,
Wishing me like to one more rich in hope,
Featured like him, like him with friends possessed,
Desiring this man's art and that man's scope,
With what I most enjoy contented least;
Yet in these thoughts myself almost despising
Haply I think on thee, and then my state,
Like to the lark at break of day arising
From sullen earth, sings hymns at heaven's gate:
   For thy sweet love remembered such wealth brings
   That then I scorn to change my state with kings.
[53] What is your substance, whereof are you made,
That millions of strange shadows on you tend?
Since every one hath, every one, one shade,
And you, but one, can every shadow lend.
Describe Adonis, and the counterfeit
Is poorly imitated after you;
On Helen's cheek all art of beauty set,
And you in Grecian tires are painted new.
Speak of the spring and foison of the year:
The one doth shadow of your beauty show,
The other as your bounty doth appear,
And you in every blessèd shape we know.
   In all external grace you have some part,
   But you like none, none you for constant heart.
¿Cuál es tu sustancia, de qué estás hecho, que millones de sombras extraordinarias te escoltan? Pues todos tienen, cada uno, una sombra, y tú, sino uno, puedes todas las sombras dar. Pinta a Adonis, y el retrato es pobre imitación de ti; sobre la mejilla de Helena todo el arte de la belleza pon, y tú en atuendo griego apareces pintado de nuevo. Habla de la primavera y la abundante cosecha del año: la una, sombra de tu belleza muestra, la otra como tu esplendidez aparece, y a ti en toda forma adorable te reconocemos. En toda gracia externa tienes parte, pero tú como ninguno, ninguno como tú en corazón constante.
[55] Not marble, nor the gilded monuments
Of princes shall outlive this powerful rhyme;
But you shall shine more bright in these contents
Than unswept stone besmeared with sluttish time.
When wasteful war shall statues overturn,
And broils root out the work of masonry,
Nor Mars his sword nor war's quick fire shall burn
The living record of your memory.
'Gainst death and all oblivious enmity
Shall you pace forth: your praise shall still find room
Even in the eyes of all posterity
That wear this world out to the ending doom.
   So, till the judgment that yourself arise,
   You live in this, and dwell in lovers' eyes.
Ni el mármol, ni los dorados monumentos de los príncipes sobrevivirán a esta poderosa rima; sino que tú relucirás con más brillo en estos contenidos que la piedra sin barrer enmugrecida con el sucio tiempo. Cuando la devastadora guerra las estatuas derribe, y los tumultos arranquen la obra de albañilería, ni la espada de Marte ni el vivo fuego de la guerra quemarán el testimonio viviente de tu recuerdo. Contra la muerte y toda enemistad del olvido saldrás adelante: tu alabanza encontrará espacio aún en los ojos de toda la posteridad que lleve este mundo hasta el juicio final. Así, hasta el juicio en que resucites, vives en esto, y habitas en los ojos de los amantes.
Véase un comentario de este poema.
[73] That time of year thou mayst in me behold
When yellow leaves, or none, or few, do hang
Upon those boughs which shake against the cold,
Bare ruined choirs where late the sweet birds sang:
In me thou see'st the twilight of such day
As after sunset fadeth in the west,
Which by and by black night doth take away,
Death's second self that seals up all in rest:
In me thou see'st the glowing of such fire
That on the ashes of his youth doth lie
As the death-bed whereon it must expire,
Consumed with that which it was nourished by:
   This thou perceivest, which makes thy love more strong
   To love that well which thou must leave ere long.
Ese tiempo del año puedes en mí contemplar cuando hojas amarillas, o ninguna, o pocas, cuelgan de esas ramas que tiemblan contra el frío, desnudos coros arruinados donde recientemente cantaban los dulces pájaros: en mí ves el crepúsculo del día que tras el ocaso se va apagando en el poniente, el cual poco a poco la negra noche se lleva, segundo yo de la muerte que todo lo sella en el descanso: en mí ves la lumbre del fuego que sobre las cenizas de su juventud reposa como el lecho de muerte sobre el que debe expirar, consumido por lo que lo nutrió: esto percibes, lo que te hace el amor más fuerte para amar bien lo que has de dejar en breve.
[97] How like a winter hath my absence been
From thee, the pleasure of the fleeting year!
What freezings have I felt, what dark days seen!-
What old December's bareness everywhere!
And yet this time removed was summer's time:
The teeming autumn big with rich increase
Bearing the wanton burthen of the prime,
Like widowed wombs after their lords' decease.
Yet this abundant issue seemed to me
But hope of orphans, and unfathered fruit;
For summer and his pleasures wait on thee,
And thou away the very birds are mute;
   Or if they sing, 'tis with so dull a cheer
   That leaves look pale, dreading the winter's near.
¡Cómo se ha asemejado a un invierno mi ausencia de ti, placer del fugaz año! ¡Qué heladas he sentido, qué días oscuros visto! ¡Qué desnudez del viejo Diciembre por doquier! Y sin embargo este tiempo separados era tiempo del verano: el copioso otoño preñado de rica fecundidad pariendo el exuberante vástago de la primavera, como vientres enviudados tras la muerte de sus señores. Sin embargo esta abundante prole no me parecía sino esperanza de huérfanos, y fruto sin padre; pues el verano y sus placeres te escoltan, y si no estás hasta los pájaros enmudecen, o si cantan, es con ánimo tan lánguido que las hojas palidecen, temiendo que el invierno se aproxima.
[106] When in the chronicle of wasted time
I see descriptions of the fairest wights,
And beauty making beautiful old rhyme
In praise of ladies dead and lovely knights,
Then in the blazon of sweet beauty's best—
Of hand, of foot, of lip, of eye, of brow—
I see their antique pen would have expressed
Even such a beauty as you master now.
So all their praises are but prophecies
Of this our time, all you prefiguring;
And for they looked but with divining eyes
They had not skill enough your worth to sing:
   For we which now behold these present days
   Have eyes to wonder, but lack tongues to praise.
[116] Let me not to the marriage of true minds
Admit impediments: love is not love
Which alters when it alteration finds,
Or bends with the remover to remove.
Oh no! it is an ever-fixèd mark
That looks on tempests and is never shaken;
It is the star to every wandering bark,
Whose worth's unknown although his height be taken.
Love's not Time's fool, though rosy lips and cheeks
Within his bending sickle's compass come;
Love alters not with his brief hours and weeks,
But bears it out even to the edge of doom.
   If this be error and upon me proved,
   I never writ, nor no man ever loved.
Que al maridaje de los espíritus fieles no admita yo impedimentos: no es amor el amor que se altera cuando alteración halla, o se pliega con el que se va a irse. ¡Ay no! es una marca siempre fija que mira a las tempestades y nunca la agitan; es la estrella para todo barco errante, cuyo valor es desconocido aunque se pueda medir su altura. Amor no se deja engañar por el Tiempo, aunque los labios y mejillas rosados al alcance de su curvada hoz lleguen; Amor no se altera con sus breves horas y semanas, sino que lo resiste incluso hasta el filo del juicio. Si esto es error y me lo demuestran, nunca escribí, ni ningún hombre nunca amó.
[130] My mistress' eyes are nothing like the sun;
Coral is far more red than her lips' red;
If snow be white, why then her breasts are dun;
If hairs be wires, black wires grow on her head;
I have seen roses damasked, red and white,
But no such roses see I in her cheeks;
And in some perfumes is there more delight
Than in the breath that from my mistress reeks;
I love to hear her speak, yet well I know
That music hath a far more pleasing sound;
I grant I never saw a goddess go
(My mistress when she walks treads on the ground).
   And yet by heaven I think my love as rare
   As any she belied with false compare.
Los ojos de mi señora no se parecen en nada al sol; el coral es mucho más rojo que el rojo de sus labios; si la nieve es blanca, ¡vaya! entonces tiene los pechos morenos; si los cabellos son hebras, hebras negras le crecen en la cabeza; he visto rosas de Alejandría, rojas y blancas, pero de esas rosas no le veo en las mejillas; y en algunos perfumes hay más deleite que en el aliento que de mi señora emana; adoro oírla hablar, pero bien sé que la música tiene un sonido muchísimo más placentero; admito que nunca vi caminar a una diosa (mi señora cuando anda pisa el suelo). Y, sin embargo, por el cielo tengo a mi amor por tan extraordinaria como cualquiera a la que contradijo con falsa comparación.
[138] When my love swears that she is made of truth
I do believe her, though I know she lies,
That she might think me some untutored youth
Unlearnèd in the world's false subtleties.
Thus vainly thinking that she thinks me young,
Although she knows my days are past the best,
Simply I credit her false-speaking tongue:
On both sides thus is simple truth suppressed.
But wherefore says she not she is unjust?
And wherefore say not I that I am old?
Oh, love's best habit is in seeming trust,
And age, in love, loves not to have years told.
   Therefore I lie with her, and she with me,
   And in our faults by lies we flattered be.
Cuando mi amor jura que es todo lealtad la creo, aunque sé que me engaña, para que pueda pensar que soy un joven indocto desconocedor de las falsas sutilezas del mundo. Así, vanamente creyendo que me cree joven, aunque sabe que mis mejores días han pasado, simplemente doy crédito a su lengua falaz: por ambos lados así suprimimos la simple verdad. Pero ¿por qué no dice ella que es infiel? ¿Y por qué no digo yo que soy viejo? Ay, el mejor hábito del amor es confiar en las apariencias, y la edad, en el amor, no ama que le cuenten los años. Así pues, yo miento con ella, y ella conmigo, y en nuestras faltas con mentiras nos halagamos.